Recent Trends in Migration and Corporate Law in Czechia Reflecting the Russian War Against Ukraine
Russia's military aggression in Ukraine and the subsequent wave of refugees has been a new challenge for all European countries – and the Czech Republic is no different. A very low unemployment rate and a shortage of workers is a long-standing problem in Czechia and, thus, this new situation brings not only challenges but also opportunities. There have been more job openings than workers in the Czech economy since 2018 and, in 2021, the Labour Office recorded about 350,000 job openings. This situation slowed growth in the Czech economy and, thus, accepting Ukrainian refugees happens to be not only a moral obligation but also in the country's best interest and an opportunity for future growth.
Following the decision of the EU Council reflecting the mass influx of displaced persons from Ukraine, a new migration regime for Ukrainians was adopted as a part of the Lex Ukraine legislation in Czechia. Under this temporary protection regime, refugees from Ukraine are entitled to obtain Czech residence and, more importantly, a work permit in a very short period of time, along with social security protections like health and social insurance. This immensely speeds up the process of integrating Ukrainians into the workforce – especially in comparison with the existing regime and migration law practice in general – which usually involves several months of waiting for a mere application submission, the need for the employer's involvement throughout the application process, and quotas imposed on the number of admissible applications. At the same time, it is obvious that the current migration relief regime applicable to Ukrainian citizens does not necessarily solve other long-lasting practical issues existing in the Czech Republic with respect to foreigners.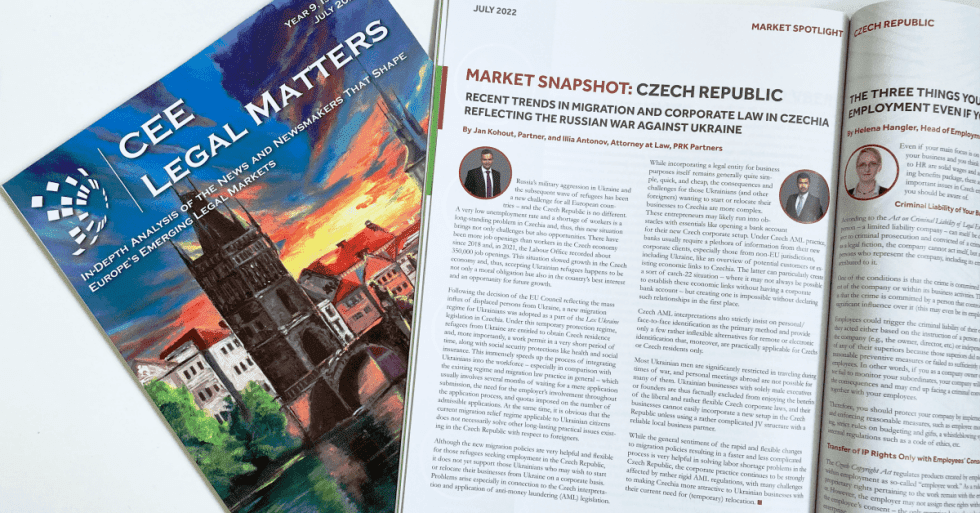 Although the new migration policies are very helpful and flexible for those refugees seeking employment in the Czech Republic, it does not yet support those Ukrainians who may wish to start or relocate their businesses from Ukraine on a corporate basis. Problems arise especially in connection to the Czech interpretation and application of anti-money laundering (AML) legislation. While incorporating a legal entity for business purposes itself remains generally quite simple, quick, and cheap, the consequences and challenges for those Ukrainians (and other foreigners) wanting to start or relocate their businesses to Czechia are more complex. These entrepreneurs may likely run into obstacles with essentials like opening a bank account for their new Czech corporate setup. Under Czech AML practice, banks usually require a plethora of information from their new corporate clients, especially those from non-EU jurisdictions, including Ukraine, like an overview of potential customers or existing economic links to Czechia. The latter can particularly create a sort of catch-22 situation – where it may not always be possible to establish these economic links without having a corporate bank account – but creating one is impossible without declaring such relationships in the first place.
Czech AML interpretations also strictly insist on personal/face-to-face identification as the primary method and provide only a few rather inflexible alternatives for remote or electronic identification that, moreover, are practically applicable for Czechs or Czech residents only.
Most Ukrainian men are significantly restricted in traveling during times of war, and personal meetings abroad are not possible for many of them. Ukrainian businesses with solely male executives or founders are thus factually excluded from enjoying the benefits of the liberal and rather flexible Czech corporate laws, and their businesses cannot easily incorporate a new setup in the Czech Republic unless using a rather complicated JV structure with a reliable local business partner.
While the general sentiment of the rapid and flexible changes to migration policies resulting in a faster and less complicated process is very helpful in solving labor shortage problems in the Czech Republic, the corporate practice continues to be strongly affected by rather rigid AML regulations, with many challenges to making Czechia more attractive to Ukrainian businesses with their current need for (temporary) relocation.