Online Dispute Resolution (ODR) Hackathon 2022
Online Dispute Resolution (ODR) uses the innovative techniques and online technologies to facilitate the process of resolution of disputes between parties. It either supplements or replaces ways, in which people have traditionally resolved their disputes.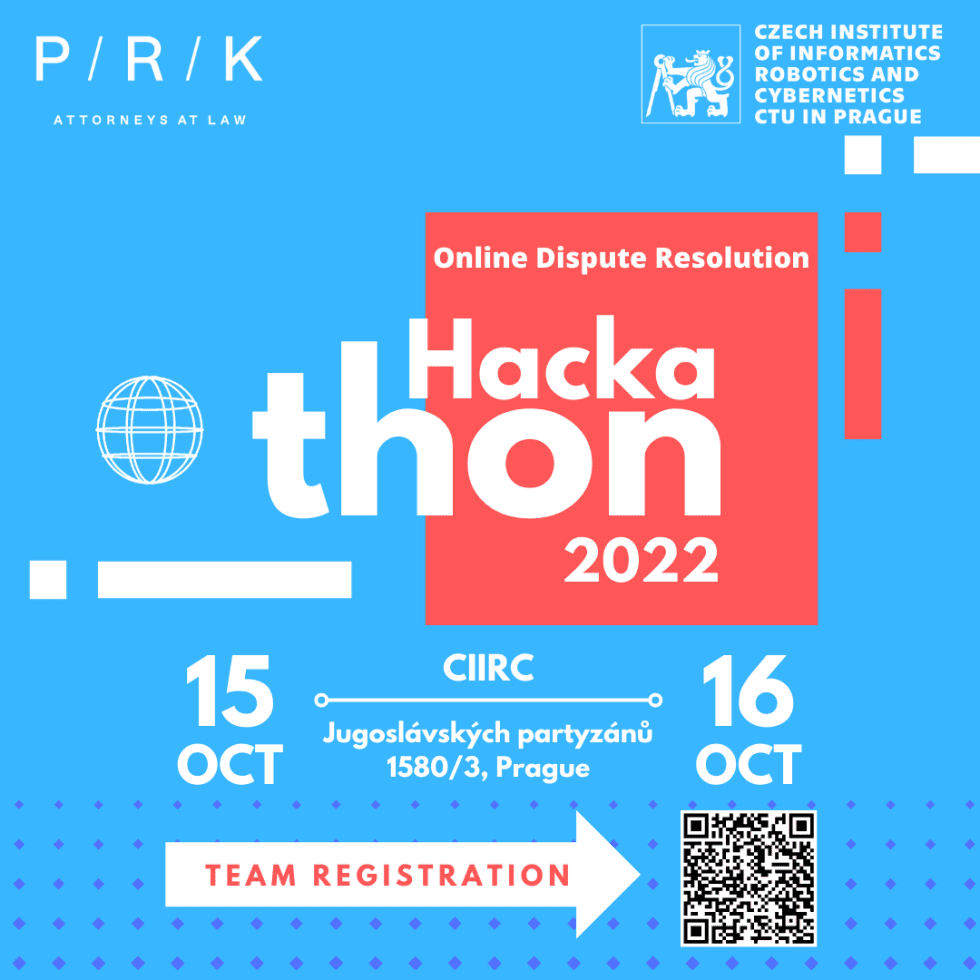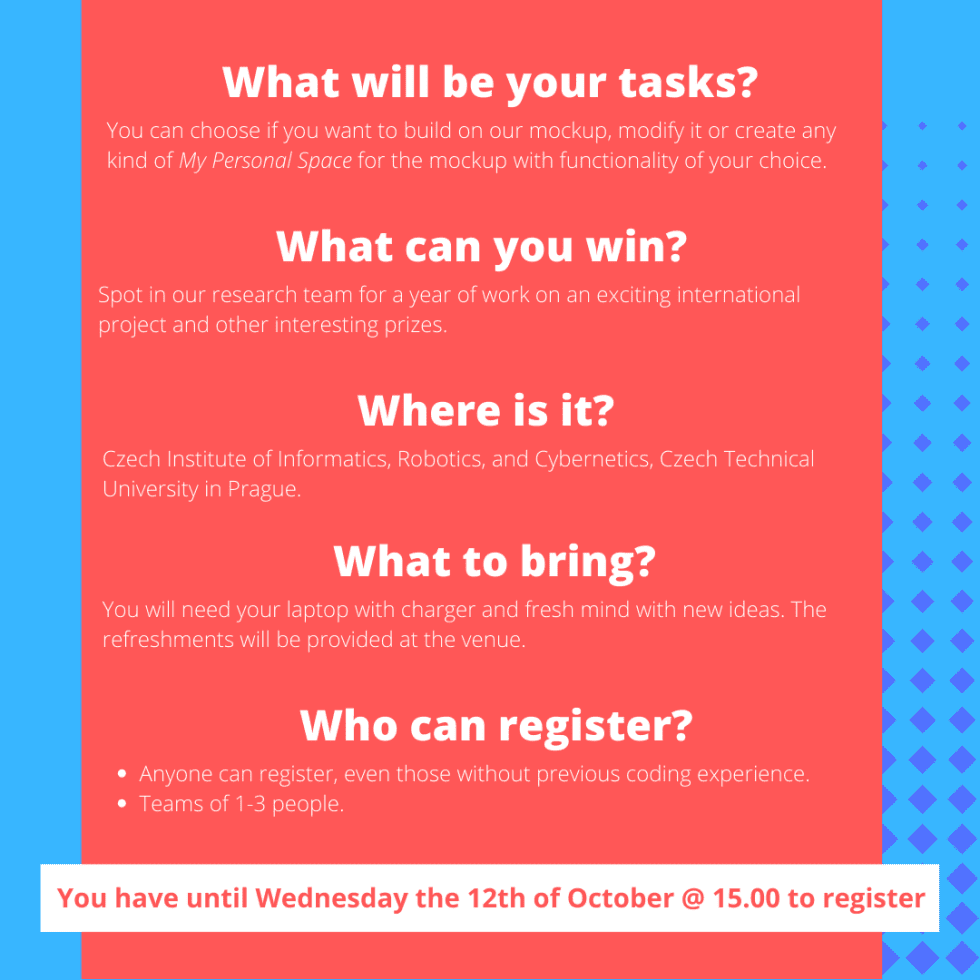 Did you know that many disputes and complaints between suppliers and their customers could be resolved quickly and easily – for example online using artificial intelligence?
Would you like to try out or directly contribute to a platform in an e-justice/ODR (Online Dispute Resolution) environment?
Register your team before 12 October for the "ODR Hackathon" and improve our solution or propose your own.
If successful, you will become a member of our research team.
At the same time there will be a similar ODR Hackathon organised by Polytechnical Institute in Porto. Teams both in Prague and Porto will be interconnected online and will have a chance to discuss the tasks directly during the event.
When is it?
When is the deadline for registration?
12 October , 2022 @ 3 p.m.
Where it is?
Czech Institute of Informatics, Robotics, and Cybernetics, CTU in Prague, Jugoslávských partyzánů 1580/3, Prague 6.
Who can register?
Anyone can register, even those without previous coding experience.
Teams of 1-3 people.
What will be your tasks?
You can choose if you want to build on our mockup, modify it or create any kind of your own personal space ("My_data_spaces") for the mockup with functionality of your choice.
What to bring?
You will just need your laptop with charger and fresh mind with new ideas. The refreshments will be provided at the venue.
What can you win?
Spot in our research team for a year of work on an exciting international project and other interesting prizes. (The prizes will be exercisable only if our research team receives funding. The results will be published approximately in 03/23 and we will inform the winners without any undue delay. The potential financial remuneration of the winners as part of our research team will follow the market conditions in the Czech Republic for comparable tasks.)
In the near future, there will be many more diverse types of dissatisfactions following new EU digital legislation and increased awareness of people of their online rights.
The goal of the project is to show a way to resolve all such online dissatisfactions. There is a risk of failing to provide access to justice on a massive scale unless we have cheap, flexible and accessible e-justice / ODR platforms capable of working in multiple languages. Our focus is to create prototypes of such platforms capable of mass-scale adoption by EU citizens and entities.
Why would people want to use our prototypes? Because they can improve their lives in many concrete ways if they have a bigger say online. In addition, resolving dissatisfactions is a cross-sector domain, and our outcomes will significantly overlap with other areas.
Our key starting point will be the implementation of ethical values in the design of these platforms, the reduction of disadvantages and power imbalances that prevent a fair resolution of dissatisfactions, and the promotion of digital inclusion to offer people easy and equal access to redress and justice.
The solution is focused on mathematical modelling and AI (mainly machine learning) because data-driven processes will be a game changer in e-justice / ODR, similarly to other areas. Data and AI will help e-justice / ODR providers to improve their processes (e.g. introduce targeted AI-assisted negotiation in areas where it will lead to substantially increased settlements among parties or provide early signals of potential discrimination of some parties).
Data and AI are already helping prominent vendors improve their customer processes and negotiate. Nevertheless, even smaller parties and individual EU citizens - including those currently digitally excluded or disadvantaged for other reasons - must have access to benefits from data-driven innovations in e-justice / ODR.
So far, we have prepared an ODR platform mock-up with accompanying use cases, and now we would like your input on it. Likewise, your help with improving the mock-up will be welcomed.