PRK Partners named Law Firm of the Year 2022
PRK PARTNERS has been named Best Law Firm of the Year for Banking and Finance and Best Czech Law Firm on International Markets in the 15th year of the prestigious domestic Law Firm of the Year competition organized by EPRAVO.CZ under the auspices of the Czech Bar Association and the Ministry of Justice of the Czech Republic. The award ceremony took place at a gala on 7 November 2022 at the Žofín Palace in Prague.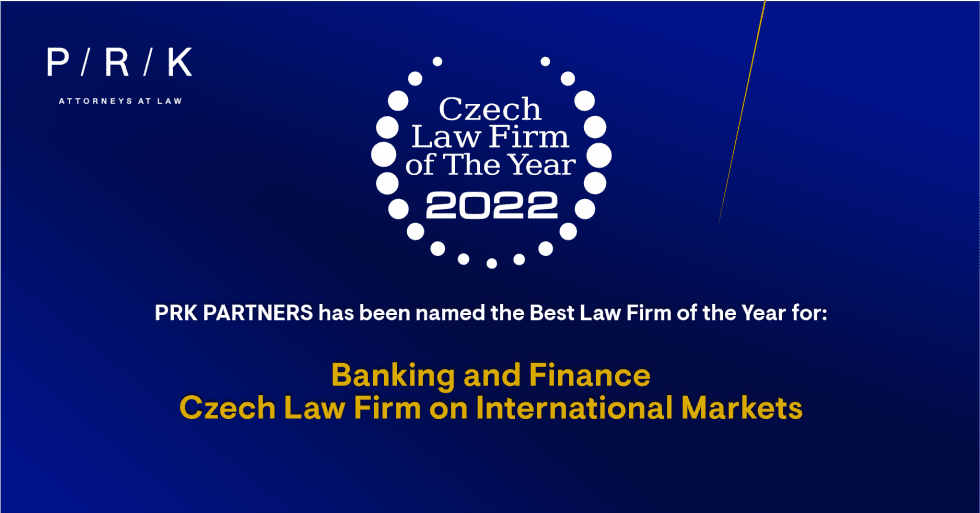 We see this 11th award for banking and finance in the 15-year history of the competition as confirmation of our, dare we say, dominant position in this practise area on the Czech legal market. We have extensive experience in this field, and we have successfully dealt with many novel legal issues and situations. We can also resolve standard transactions quickly and efficiently, but always with attention to the specifics of the given case. Our Banking and Finance team is experienced and strong, working closely with other PRK Partners professionals. PRK Partners' exceptional position in the area of banking and finance on the Czech legal market has also been continuously confirmed by assessments by multiple international law firm directories.
PRK Partners winning the Best Czech Law Firm on International Markets award is, for us, recognition of our long-term work at transnational level; of our participation in a number of significant international transactions with global impact; and of our long-standing exclusive Czech membership in the prestigious Lex Mundi global association of leading independent law firms; as well as of our permanent presence in another jurisdiction (PRK Partners Slovakia).
In addition, PRK Partners received an honourable mention as a Highly Recommended or Recommended Law Firm in all other key areas.
Every day, we strive to stay the best in what we do, and we would like to voice our appreciation and thanks to all our colleagues at PRK Partners for their work and commitment. We would also like to thank our clients for their confidence in us and for entrusting their matters to us.